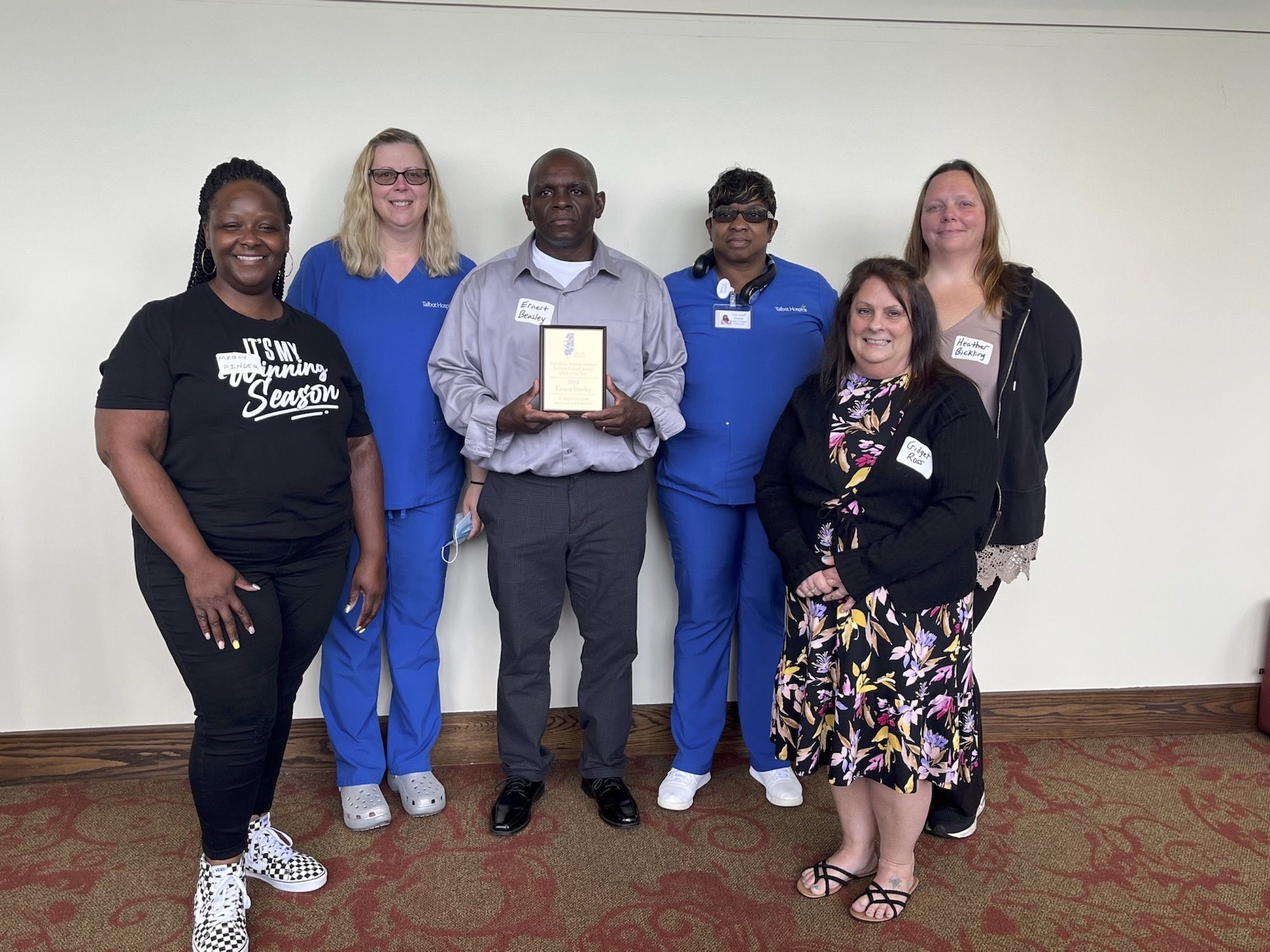 Talbot Hospice is proud to share that long-time Certified Nursing Assistant (CNA), Ernest Beasley, was named CNA of the Year by the Mid-Shore Nursing Assistant Advisory Council last month. Beasley was one of seven Talbot Hospice CNAs who were nominated.
"We are thrilled for Ernest and our other nominees," said Talbot Hospice Executive Director, Chris Chekouras. "Ernest is a tremendous asset to our team and this recognition is so well deserved. Patients light up when Ernest enters the room. His kindness, compassion and professionalism represent the very best of the CNA role at Talbot Hospice and across the profession. He is beloved by our patients, their families and his colleagues."
Beasley is an Eastern Shore native and has worked in healthcare as a CNA for two decades and has been with Talbot Hospice for the past six years.
When asked what he enjoys most about his work at Talbot Hospice, Ernest shares, "working at Talbot Hospice allows me to discover amazing things about our patients and families, and they become like family to me. I am inspired by the strength of our patients and their loved ones."
Certified Nursing Assistants, or CNAs, play a critical role in patient care at Talbot Hospice, in both Hospice House and In-Home hospice services. CNAs assist with the everyday tasks that patients may find too difficult to perform, and also provide emotional support to patients and their families. They keep patients comfortable, their environment clean and safe, and are usually the caregiver that patients and families interact with the most.
Other Talbot Hospice nominees included, Mercy Pinder, Tammy Jones, Virginia Whittington, Heather Bickling, Gidget Ross and Ky Jenkins.