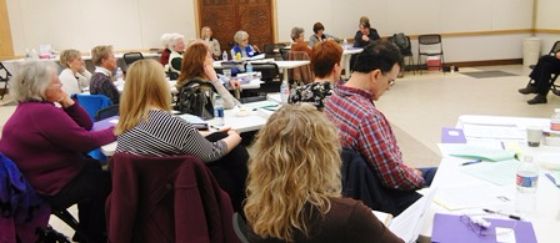 Volunteer Training
Talbot Hospice Volunteer Training takes place twice a year in the spring and the fall. The comprehensive 16 hour training addresses a variety of end-of-life issues, including bereavement, the dying process, hands-on patient care and advance directives.  Additional topics covered are hospice philosophy, attitudes and fears about death, spirituality, listening skills, setting boundaries, family dynamics, and cultural diversity.  
Please note that all volunteer training has been suspended due to COVID-19. We look forward to welcoming our volunteers back as soon as we can!
New Volunteer Training
For volunteers who work directly with patients and their families, 16 hours of training are required. Other roles that do not involve as much direct contact require less. 
The following topics are included in this training ,which are state requirements:
The purpose and philosophy of hospice care
The role of the volunteer in hospice
Concepts of death and dying
Communication skills
Care and comfort measures
The physical, psychosocial, and spiritual issues related to death and dying
Patient rights
Confidentiality
Bereavement
Infection control
Safety
Stress management
Continuing Volunteer Annual Requirements
Volunteers are required once each spring to complete forms indicating that they are up-to-date with policies mandated by the state and federal government. Volunteers must complete the forms and return them to the Director of Volunteer Services in a timely manner in order to continue as a volunteer for the coming year. Each volunteer who works with patients/families, or who handles confidential information must comply. These include cooks, Hospice House caregivers and companions, Doulas, receptionists, and bereavement volunteers.
In-Service Training
All volunteers who work directly with patients and families (patient care, companions, Doulas, cooks, receptionists, bereavement) are required to complete a minimum of one educational in-service a year. The purpose of in-service training is to augment the understanding of hospice work and to enhance one's work experience with patients and families.
In-service training topics are related to care giving, end-of-life issues, elder care, healthcare and disease. Past in-service training topics have included: 
Mindfulness: The Gift of Presence (techniques to develop awareness in volunteering)
End-of-Life Resources (legal advice and resources for patients and families)
Back Safety (safe techniques for lifting and assisting patients)
What to Say, What Not to Say (strategies for the difficult questions and conversations that arise around illness and death)
In-service programs are planned by the Director of Volunteer Services.  All current volunteers will receive notification of upcoming educational presentations in advance. 
Other Requirements
Those who drive on behalf of Talbot Hospice (doulas, in-home companions) must provide proof of auto insurance and be current with Motor Vehicle Association regulations.