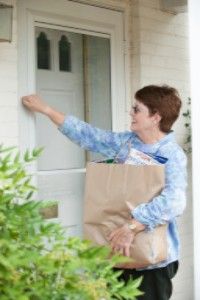 The Role of the Talbot Hospice Volunteer
When you become a Talbot Hospice volunteer, you join a wonderful group of dedicated individuals who support patients and families in our care. Talbot Hospice volunteers are the most important and visible providers of our supportive services. Our volunteers have many and diverse gifts that they contribute in their own way, and we welcome your skills and talents!
Things volunteers do:
Cook meals for patients at Hospice House
Provide respite for caregivers 
Play Music
Staff the front reception desk
Take patients to doctor appointments
Shop for groceries
Arrange flowers
Maintain our lovely meditation gardens
Serve as an End-of-Life Doula when death is imminent
Serve as a companion to patients just by holding a hand, reading a book or taking a ride
If you have a desire to be a volunteer at Talbot Hospice we will try to find a way to incorporate your interests and talents.
 
The most important attributes of our volunteers include:
Commitment to our mission
Kindness
Compassion
The ability to listen without judgment
Respect for others
Healthy boundaries
A sense of humor