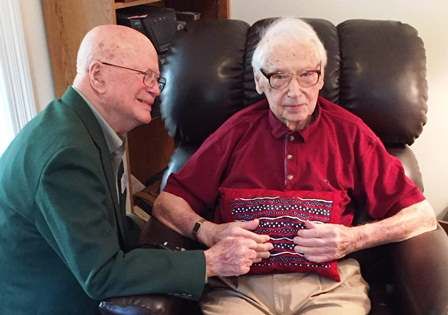 We Honor Veterans
Talbot Hospice endeavors to provide quality services for all Veterans through the end of life. Currently, Talbot Hospice honors Veterans with special recognition visits which include a  ceremony with the presentation of a hand-sewn patriotic quilt and pillow, a pin and the reading of a Veteran commemorative poem.  When a Veteran is served in Hospice House, a quilted banner from the patient's branch of service is hung on the door.  
Our fellow Americans have made profound sacrifices in defense of freedom and they deserve our heartfelt thanks and appreciation. Honoring our nation's Veterans includes supporting them throughout their entire lives, especially at the end of life.
We are a participating member with the Department of Veterans Affairs and the National Hospice & Palliative Care Organization in a Hospice-Veteran program known as "We Honor Veterans." This partnership enables Talbot Hospice to continue to improve Veterans' access to hospice and palliative care to assure that every Veteran has access to hospice care at any time.

To all our nation's Veterans, thank you for your service.