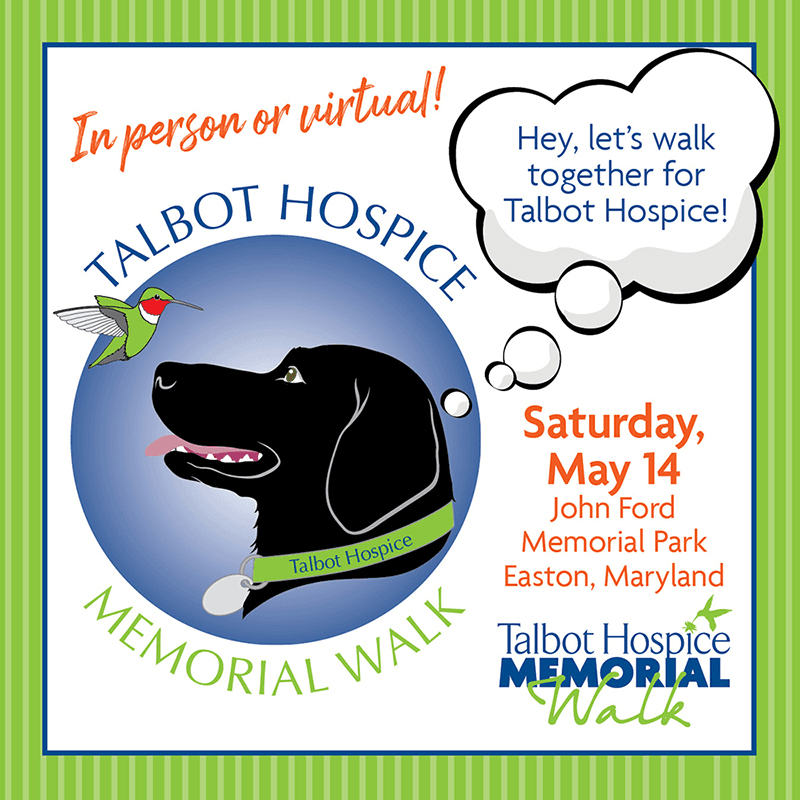 The Talbot Hospice Memorial Walk returns this Spring and will be held in-person on Saturday, May 14th at Easton's Rails to Trails and John F. Ford park. A virtual walk is also available to supporters who live out-of-town, or would prefer to participate on their own.  
In September 2020, the Memorial Walk was held virtually, and more than 300 participants walked over 3 million steps on the mid-shore and from as far away as Daytona, Florida, Denver, Colorado and San Francisco, California.
"We are thrilled to welcome the community back to our Memorial Walk," said Mia Cranford, Director of Development. "We can't wait to see everyone in person, but are also keeping our virtual option so all of our friends and supporters can participate from wherever works best for them. This year we are upping our step goal to 4 million, and we are confident we will get there!"
This year the Memorial Walk moves to a new location and time and will be hosted at the Town of Easton's Rails to Trails and John F. Ford Memorial Park from 10am – 2pm on Saturday, May 14th.  The traditional memorial ceremony and dove release will start the event, followed by a 0.5 mile walk around the park or 3.1 miles walk on Rails to Trails. After the race, participants are invited to stay for family fun including games, bake sale, vendors and more.
"The Memorial Walk has always been a special time for individuals and the community to come together to remember and honor their loved ones," said Cranford. "We are proud to continue the tradition and provide a space for people to remember, honor and celebrate their lost loved ones."
2022 Talbot Hospice Memorial Walk sponsors include, Presenting Sponsor Shore United Bank, Parker Counts, Economy Tree Experts, Craig's Drug Store and Bay Imprint.
Additional sponsors are welcome, and interested individuals and businesses should contact Mia Cranford, Development Director at mcranford@talbotcc.com
Registration is $30/adults and $10/young adults 12 and older. Children 11 and under are free. Participants will receive a hat, tshirt and other goodies provided by our sponsors.
Dogs are welcome to register for $5 each and will receive a Memorial Walk bandana.