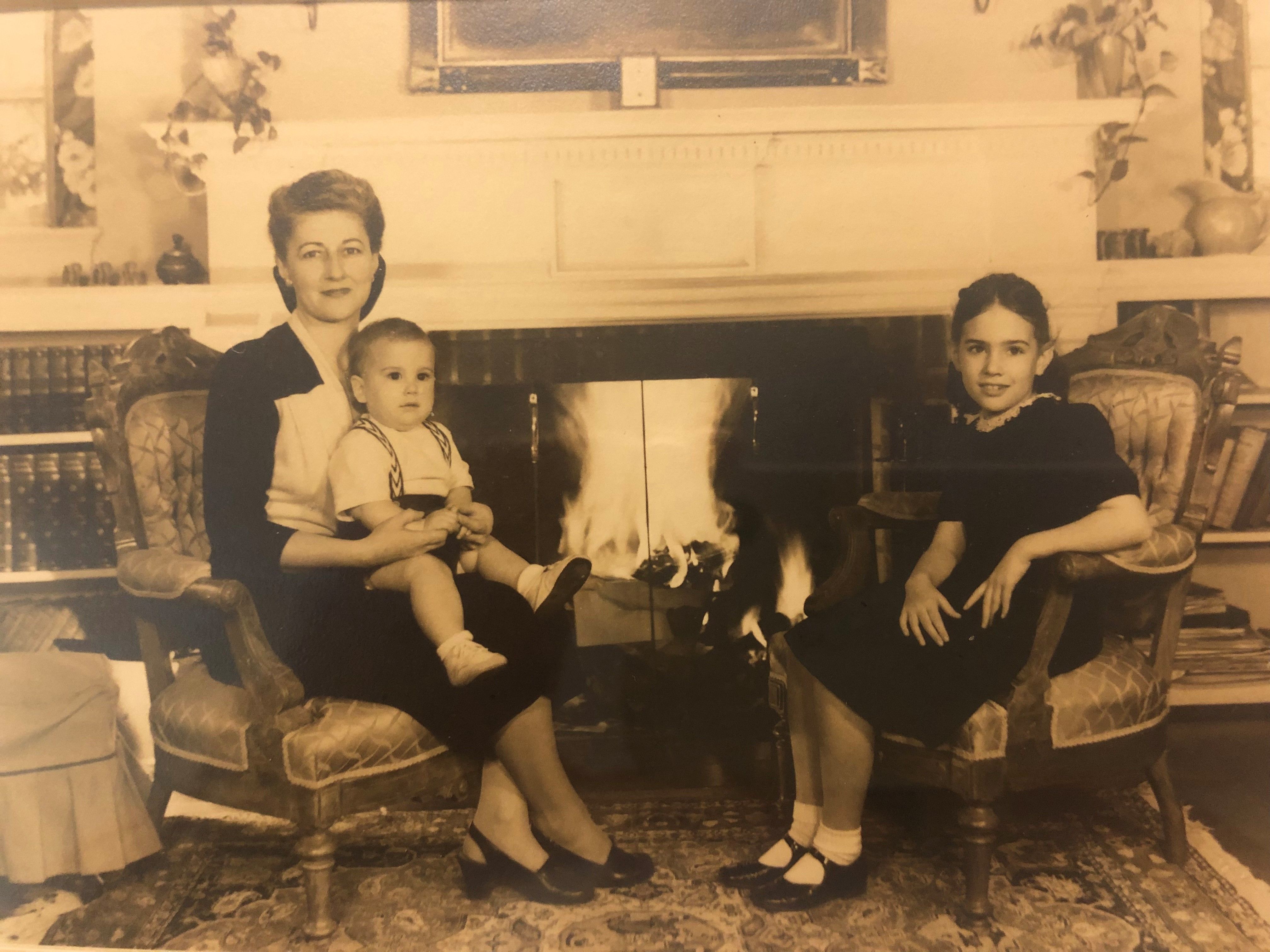 "Death is just the end of one chapter of our souls' growth," shares Talbot Hospice Volunteer, Beverley Martin.
It is this belief that guides her work as a hospice volunteer. However, it was a long journey that brought her to a place where she is at peace with death and can provide comfort and strength to patients, as well as their families, in their final days, hours and moments.
"I lost my brother and only sibling to whom I was very close to brain cancer when he was only 23. He was in a coma for two-four months. It was excruciating watching him fade away and feeling so powerless."
"It was the same when I was losing my mother, I was terrified."
"When you go through pain, it opens you up in different ways. The grief lasted for ten years, and there is still a longing to have know what I know now."
Beverley's grieving process led her to explore and research the nature of death through extensive reading about life after death. Her research coincided with her attendance at a seminar she attended with her colleagues from the holistic practice where she worked in Washington D.C.
The speakers were English nuns who were part of the global hospice movement that began in the United Kingdom with the establishment of St. Christopher's Hospice, the world's first modern hospice, in South London by Dame Cicely Saunders in 1967.
"When I heard their story I knew, this was my calling."
"After retiring and moving to Annapolis, it was time to listen to my heart. I became a hospice volunteer, and later, when I moved to Easton, I became part of the Talbot Hospice Family."
When completing the volunteer training at Talbot Hospice, she was given the book, Final Gifts, a beloved resource for hospice volunteers that shares the experiences and stories from hospice nurses in their work with patients in their final part of this life.
In the book, Beverley learned that "breathing" with someone who is dying is a way to connect with them and a way to communicate that you're with them.
"If I'm with someone who is dying, I can just hold their hand and be with them. And I'm DOING something for them. I feel like I am doing something valuable by being totally present for them."
"If only I had known then what I know now, I would have done the same for my mother and my brother. I am now doing for others what I was not able to do for my loved ones."
"It's so small, but so important."
It's the realization that the smallest actions in the moment can have a profound impact on patients and their families that has been the most unexpected, yet rewarding, gift of being a hospice volunteer.
Beverley was kind enough to share several of these stories with us.
Evelyn
I arrived at Hospice House for my usual Thursday afternoon shift and was asked by the lead nurse to sit with Evelyn who in her final hours. The nurse also told me that Evelyn's husband would be visiting, but he was only emotionally able to come in for minutes at time.
I sat down next to Evelyn and began to breathe with her. A few minutes later, her husband came in. I introduced myself and told him that I was a volunteer and that I was holding her hand and breathing with her and doing my best to let her know she was loved. I then asked, "Maybe instead of me doing it, you would like to?"
He was reluctant and said, "Evelyn doesn't like me to hold her hands, because of her arthritis."
Something told me to gently persist, and I suggested to him, that given the circumstances, she wouldn't mind, and then asked if I could gently place her hand in his.
He agreed, and I placed her hand in his. He was only able to stay that way for a minute or two before leaving, but he did it.
A few hours later, I felt that Evelyn wouldn't make it much longer, so when her husband came back in, I again gently persisted and said, "Evelyn is close to leaving us, and I think she might want to hear that you love her."
He responded, and said, "she knows I love her," and again, I pushed, "But I think there is nothing more than that she would really want to hear than 'I love you' from you, one last time."
He then asked me how he should do it, and I helped him come close to her ear and whisper, "I love you."
It was so touching!
I stayed with Evelyn that afternoon until she took her last breath, and then went home feeling honored and humbled to have spent those last precious moments with her.
But Evelyn's story and the impact it made on me didn't end there.
A few days later, when I saw the hospice nurse, she shared that Evelyn's husband had spoken with his children and was proud and happy that he was able to hold his wife's hand and tell her he loved her one last time, and that it was all possible because of this wonderful volunteer named Beverley.
I was stunned. I didn't think what I had done was exceptional, but those gentle nudges helped him say the goodbye he needed to say to his wife, and hopefully helped him, and their family, begin the grieving process from a good place.
It was an amazing experience I didn't expect to have.
Ann
I was asked to sit with Ann during one of my afternoons at Hospice House. The nurses told me that since arriving, she hadn't uttered a word and didn't like to be touched.
I walked in, introduced myself and sat next to her.
After a moment or two, I leaned over and said, "I just had an idea, what would you think if I did some feather touches on your arms?"
Ann didn't object, so I did some light feather touches on her arms, neck and around her head. I did this for about 15 minutes, and then stopped. I looked down to see her looking up at me and heard her say, "thank you."
Talk about a gift!
I walked away that afternoon knowing that the small act of connection through those feather touches had provided some comfort to Louise in her final days at Hospice House. It left me with a deep sense of gratitude and peace.
Georgia
Georgia and her family helped me understand that you can never know what a person, or family, has lived through, and all you can do is offer them love and meet them where they are.
I met Georgia one of the rare times I've been asked to work with a patient in Talbot Hospice's home hospice program. When I met her, she was living with her daughter and son-in-law, and I soon realized that having her at the house was not what was best for Georgia or her family. The nurse charged with her care agreed, and we both began to advocate for Georgia to be moved to Hospice House as soon as there was space available.
During the weeks of being with her, I also realized that I had walked into a complicated family dynamic that I didn't completely understand. Later when I sat with Georgia, I was overcome with the need to give her a hug, so I asked permission, and then I did.
After a moment or two, Georgia began to sob, and I just held her until she had released all of the emotion and tension. Georgia was then able to rest, and I just sat with her for the next few hours. Before I left, she shared with me that it was the first hug she'd had in years. I gave her another hug and told her I loved her.
A few days later, she moved into Hospice House where she was much happier, and her children came for regular visits filled with light and laughter until she passed away several weeks later.
When I attended her memorial service, her children approached me and thanked me for that incredible hug and advocating for their mother to move to Hospice House.  
They also shared that their mother had never really been shown love, and in turn, struggled to show love to her children.  Turns out, the hug I was compelled to share with Georgia helped her know she was loved and broke down decades of walls and allowed her to share and receive love with her family in her final days.
Just one hug made all the difference.
------
If you ask Beverley how she knew just what to do in each of these moments, she would tell you that it was a form of divine intervention that helped guide her to give what those patients and families needed most, and that it was traveling her own journey of grief that allowed her to understand what she could DO when someone is dying.
Simple things shared in a moment by hospice volunteers - like a hug, a gentle touch and helping a husband hold his wife's hand and tell her he loves her – set off ripples of positive energy and love that give patients peace and families comfort as they say their final goodbyes.
Hospice Volunteers like Beverley participate in a comprehensive 16-hour training which addresses a variety of end-of-life issues, including bereavement, the dying process, hands-on patient care and advance directives. Additional topics covered are hospice philosophy, attitudes and fears about death, spirituality, listening skills, setting boundaries, family dynamics, and cultural diversity. In addition to providing companionship to patients, there are also many other roles that support Talbot Hospice. To learn more, visit, www.talbothospice.org/volunteer.