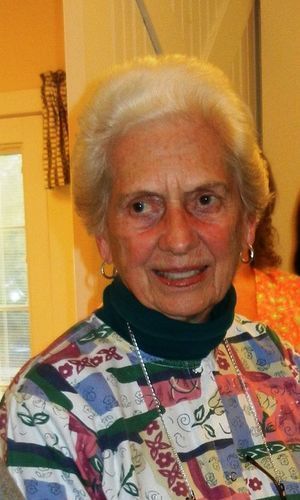 Four Decades of Hospice Caring
Celebrating 40 Years of Talbot Hospice and the services of Nurse Marjorie "Pete" Fox.
By Sheila Buckmaster
Known as Pete since her childhood as an animal-loving tomboy, this Hospice nurse is now 88. She's been with Hospice since its inception in 1981 and remains devoted to the Talbot Hospice mission of lovingly caring for patients with life-ending illnesses.
I pull up to Pete's house, on a busy Easton road. Before me is lots of lawn (mowed by Pete) and a solid brick rancher whose most pronounced characteristic is the electrified candles in each window. Soon I will come to learn, these lights can be seen as beacons signifying a household that holds fast to helping out whenever possible. This is a safe haven.
We exchange hellos. Shake hands. My first impression is of a vital, capable woman. Pete seats me at the head of the dining room table. There are stacks of papers and piles of files. It looks like she's assembled some historic Talbot Hospice newsletters and clippings for me to look over.
"My wife and I both felt very compelled to sit down and try to attempt to put our feelings into words about the people who make up the Talbot Hospice Foundation.

There is one person who, in our hearts, we feel went above and beyond in her responsibilities. That person is Mrs. Pete Fox. Pete not only helped my mother but helped each member of my family get through this most difficult time..."—a loving son
After graduating as valedictorian from Cordova High School, one of eleven in her class, Pete went on to three years at the Memorial Hospital School of Nursing in Easton. From there, she was hired to work on the medical surgical unit at what was then called Easton Memorial Hospital. But let's back up a bit. Every morning during nursing school, she and the other nurses-in-training went into the "chapel" at 6:30am. (The room was actually an office for doctors who came in later in the morning.) "Someone would read a scripture," she says, "and we all would repeat, 'Do unto others as you would have others do unto you.'" For four decades, Pete has taken care of her patients the way she would want to be taken care of.
While working at the hospital, a call from the Talbot County Health Department would lead to a switching of professional gears. She would sign on to offer relief for Health Department nurses taking time off for vacations. Pete was also poised to be a hands-on asset when the Health Department gave birth to Talbot Hospice in 1981.
"When Hospice came on board, I switched from home healthcare to Hospice," Pete says . Pete saw most of her patients in their homes. It wasn't until 1998 that the six-guestroom Hospice House was completed. (Today, Hospice patients continue to be cared for at home, at Hospice House, and in nursing-home facilities.)
"I've have had the pleasure of working with Pete Fox off and on over many years while in private practice with my own patients enrolled in Hospice as well as when I came on board as a medical director for the Hospice organization. It was always comforting when I received a call from Pete because I knew the person on the end of the line was confident, knowledgeable and fully aware of what was going on with the patient in question. Pete, in a very succinct manner, advised me of the situation and she usually had very good suggestions to take care of the problem, to which I replied "Sounds good Pete, go right ahead." —Dr. Rob Sanchez, a Talbot Hospice Medical Director
In 2014, six guest rooms were added to Hospice House, bringing the total to twelve.  Rooms were named for donor sponsors. But, somehow, the 12th patient room went unnamed. But that's going to change. Mia Cranford, Talbot Hospice Director of Development, is mid-campaign in the effort to raise $50,000 that will be followed by the official naming of Room 12. It will be called the Marjorie "Pete" Fox room.
With three children and an active role in the family trucking business, Pete generally worked for Talbot Hospice two days a week. "I was assigned patients and I became their case managers," Pete explains. "I saw them from the intake/admission process to their end of life. " But her involvement didn't end there. She has attended many a funeral and celebration of life.
"And what of death?" I ask Pete.
"Well, we are all going there," she says. "I've come to learn that, as a loved one, you have to tell the person who is dying that you love them, you are there for them, and that the loved ones left behind will be okay." 
Armed with a great memory and a proclivity for chronicling experiences, Pete is an encyclopedia of stories. In 1992, she and nine other American health professionals took a trip to Russia to visit the country's only hospice—in St. Petersburg.
"I was so interested to see how hospice care was managed in a country lacking the resources we in the United States take for granted. "Pete's beautifully curated photo album from the trip includes dozens of carefully captioned photos of patients, doctors, and operating rooms. The album's opening photo shows the Finnair jet that would take them to Russia. It is captioned "Away we go!! Hope the plane holds it all!" Indeed, in addition to their personal luggage, each of the travelers carried a suitcase brimming with medical supplies.
Abroad and at home, Pete is someone who always goes above and beyond. When she saw that one of her Hospice patients, who lived in a Cordova shack without electricity and running water, had a dangerously precarious heating unit, she worked with a local contractor to have the system repaired. Pete was prepared to pay for this, but the contractor never sent her a bill.
Pete gets up from the dining room table and heads back graciously a few minutes later with some home-baked banana bread and cranberry bread.  I would be encouraged to try both and to take some home.
I ask Pete to fill in the blank: "A good hospice nurse.....
"Does it all," she says. That said, she explains that a nurse is part of a Hospice team that includes a medical director physician, pharmacist, chaplain, social worker, doula (a person trained to sit with patients to be spiritually helpful), home health care aide, Hospice volunteers, and home caregiver (most often a family member). And also, bereavement counselor—"such an important aspect of the process," Pete says.
"Are we a team? Oh, gosh, yes."
Pete and her husband, Barry T. Fox, who died in 2010, generously opened their home to foreign-exchange students, inner-city kids who would stay with them for a six-week summer camp program. Through her church, she helped resettle refugee families from Vietnam and Poland. During Hurricane Katrina, a Fox Trucking 50-foot tractor trailer was packed with relief items to be driven to New Orleans.
As our time together draws to a close, Pete and I are standing, saying our goodbyes, when I mention that my cousin Matt had taken a fall a couple of nights ago while on his way to the bathroom.
"He needs to keep a commode or urinal by his bed," Pete offered. I couldn't believe my luck. I was getting to see Pete in action. As we talked about Matt, her demeanor was one of concern and composure.
Pete walks me outside and tells me that she'll be mowing her three-plus acres of grass in the afternoon.
She leaves me with the following: "I have loved every day of my 40 years practicing Hospice care. I am so grateful for the opportunities Hospice has afforded me. It has been an honor and privilege to work with the staff, patients, and volunteers." 
So many people are so grateful to you, Pete. Thank you!