Special Donors - Jim & Cece Koons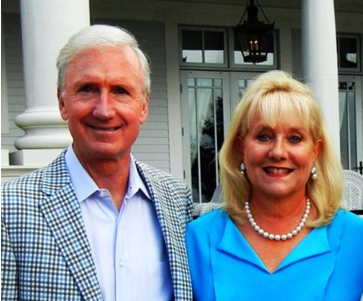 Cece and Jim Koons have experienced first-hand the loving support and guidance of hospice. Like so many other families, they found great comfort when they were caring for Jim's mom during the difficult last days of her life. As Jim says, "Hospice allowed my Mom to continue to live out her life with the dignity and comfort she deserved. It was such a blessing to our family to have the wonderful people and programs of hospice during such an emotional time." That experience has led Jim and Cece to provide a generous gift of $1,000,000 to the Talbot Hospice Foundation in honor of his mother, Eleanor Koons. In addition, Cece serves on the Talbot Hospice Board of Directors. 
Cece adds, "Jimmy and I have been blessed in so many ways in our lives. We are fortunate to be able to give back to the community. The fact that Talbot Hospice provides services to all residents of Talbot County with the help and support of donors combined with the extraordinary hospice volunteers makes this a cause that you want to support with a passion. Talbot Hospice is a shining example of the great philanthropy found in our area. We continue to be amazed by the wonderful people in this community." 
Jim Koons is CEO of Jim Koons Automotive Companies. He owns and operates 26 franchises at 19 locations in the Mid- Atlantic Region, including Koons Easton Toyota. The Koons organization has over 1,700 employees and has been ranked as one of the largest dealership groups in the Nation for the past 25 years. The organization has achieved virtually every award in the automotive industry and recognized as the Best Place to Work by the Washington Business Journal. Koons Automotive supports many worthy causes in addition to hospice.