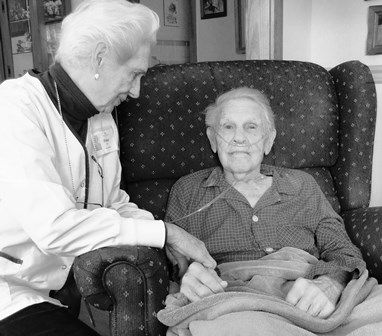 A Hospice Heart Story
  Hospice nurse Marjorie "Pete" Fox is accustomed to hearing the phone ring late at night. As a hospice nurse for the past 32 years she makes regularly scheduled visits to hospice patients wherever they call home.  Her dedication to patients and families at the end of life truly embodies the hospice philosophy of offering her years of experience and insightful support.
  In the small community in which she works, Pete has been known to serve more than one generation of the same family. Recently, she assisted a beloved family that she has known for over two and a half decades. From Pop-Pop to the granddaughters, and all the memories of the extended family members in between, Pete brings comfort, support and personal intimacy as a hospice nurse in the home.
  Pete collaborates with the hospice interdisciplinary team and creates an individualized plan of care for each patient and in a larger sense for each family member.  As a hospice nurse in the home, she keeps in close contact with the patient's personal physician, who is an integral part of the hospice care team.  Pete oversees pain management and symptom control while listening to the patient's and family's needs. She offers compassionate support for the challenges presented at the end of life.
  The length of her visits vary depending on the desires of the patient and needs of the family. Pete takes it all in stride with a competency, professionalism and commitment to patient advocacy.
  She is a kindhearted hospice nurse with untold years of experience serving patients in their homes in their final days and experiencing death on their own terms with dignity.  This is the gift that Pete shares with community members and so many families have been touched by her kind soul and generous heart.