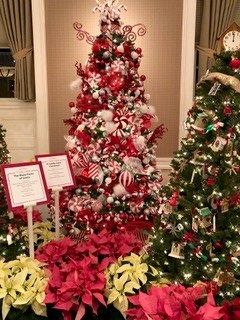 Friends of Hospice and Talbot Hospice are excited to announce that they are collaborating to present Winter Festival 2022 to the Mid-Shore Community.
"Talbot Hospice is deeply grateful to the organizers, donors, and volunteers of the Annual Festival of Trees for 35 years supporting the patients and families we serve," said Chris Chekouras, Talbot Hospice Executive Director.
"We are especially thankful for the event founders, Leslie Ware and Midge Menzies, who imagined an event that has grown into a beloved holiday tradition in our community," said Brenda Forbes Butler, Friends of Hospice Board President. "Thanks to their efforts and those of countless volunteers, the Festival of Trees has raised more than $3 million to support the mission of Friends of Hospice, with $97,000 raised in 2021 alone. They deserve a well-earned retirement as co-chairs, and we are excited to continue our working relationship with Talbot Hospice with this annual program of events."
For the first time, the event will be co-chaired by a representative from both Friends of Hospice and Talbot Hospice. The 2022 Chairs are John Horner, Vice President of the Board for Friends of Hospice and Mia Cranford, Talbot Hospice Development Director.
Together with the planning committee, they have chosen to present "Winter Festival 2022" to better reflect the multiple events that take place during the Festival. The Festival of Trees will continue to be a marquee event at the Tidewater Inn and will be part of a series of six events beginning in October.
The 2022 Winter Festival theme is "Joy Around the World," and community members are encouraged to save the dates for the following events:
Pump it up for Hospice (most recently known as "The Drag Race") on October 15th
Santa Fun Run 5K on November 19th
The Festival of Trees on November 26th – 29th with preview party on November 25th
Carols by Candlelight on November 26th
Holiday House Tours on Sunday, December 4th.
Plans are underway, and new and returning volunteers and sponsors are always welcome. For more information, please contact Mia Cranford at mcranford@talbothospice.org or John Horner at jhorner@eucmail.com.