Hearts for Hospice Truck/Cash Raffle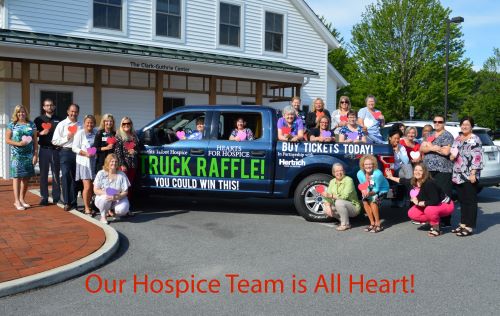 ENTER NOW FOR A CHANCE TO WIN this 2019 Ford F-150 4x4 Supercrew Pickup or $25,000 cash, presented in partnership with Hertrich Ford of Easton. ONLY 2,500 TICKETS BEING SOLD!
Tickets are $40 each or three for $100 and can be purchased below or in person at Talbot Hospice, 586 Cynwood Drive, Easton; and Hertrich Ford, 9617 Ocean Gateway, Easton. The winner is responsible for state and federal taxes.
The drawing for the winning ticket will be held October 12, 2019, 12 p.m., at Hertrich Ford. The public is invited for free food and beverages. If you are willing to sell tickets at your place of business, please contact Laura Richeson at 410-822-6681 or lricheson@talbothospice.org.
Proceeds for the raffle will benefit hospice, palliative care, and grief support services in Talbot County.