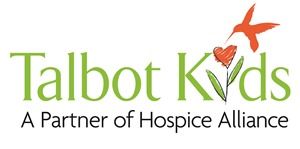 Talbot Kids Pediatric Care Program
Our Pediatric Care Program offers both hospice and home based palliative care that focuses on the coordination of medical services, psychosocial, and spiritual support to children facing life threatening illnesses, while also supporting their family. Our trained staff will work in coordination with your child's medical team to ensure consistent goals of care are met with compassion and a focus on quality of life for both the patient and family. Our goal is to enable children to remain at home where they love to be, surrounded by family and their favorite things. Our program allows children to continue curative treatment, and our team assists with a smooth transition from treatment to home.
Our team consists of trained professionals including:
Your child's attending physician (s)
Pediatric Program Medical Director
Nurse Case Managers
Social Workers
Spiritual Counselors
Volunteers
Complimentary Therapists: Massage Therapy/Pet Therapy
Grief Counselors
Home Health Aides
Access to palliative pediatric specialists
Our Pediatric Care Program is available to all children from infancy through adolescence.  Medications, medical equipment and supplies related to your child's illness are provided under our program.  All children are accepted regardless of ability to pay. 
Dr. Mark Langfitt, a local pediatrician, is our Associate Medical Director for Pediatric Care. He provides oversight for the development and ongoing monitoring of provision of care that is suited to the unique need of pediatric patients.

Talbot Hospice is a member of Alliance Kids and Hospice Alliance, a regional pediatric network in the mid-atlantic which serves children in our communities who have life-limiting illnesses

Talbot Hospice has arranged for expert consultation from the Department of Pediatrics at the University of Maryland Medical Center. Faculty members with expertise in palliative care and end-of-life management in pediatrics are available to ensure age-appropriate and evidence-based care is provided to pediatric hospice patients. http://medschool.umaryland.edu/pediatrics/
Our collaboration with the University of Maryland Medical Center also includes involvement with its Center for Infant and Child Loss (CILC), a charitable organization within the Division of Neonatology, Department of Pediatrics at the School of Medicine. Funded in part by Maryland's Department of Health and Mental Hygiene, the Center is committed to assuring Maryland families facing the sudden unexpected loss of their infant or child have access to bereavement interventions, counseling, and information based on best practices and current research. http://www.infantandchildloss.org/About-CICL.html
For more information, call the 24 hour Hospice Access Line 410-822-2724.