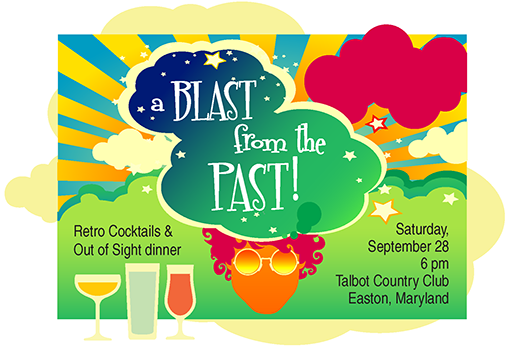 Talbot Hospice will present "A Blast from the Past," a groovy disco party on September 28 at 6:00 pm at the Talbot County Club.  Guests will be transported back to the crazy, awesome days of the '60s and '70s thanks to the creative vision of event committee members Susie Dillon, Susie Granville, Hynda Dalton, and Sheila Monahan.  This "out of sight" party promises to be a memorable evening complete with the themes of peace, love, and rock 'n' roll while taking everyone back several decades. 
Reflecting the memorable music and moments from these swinging decades, the talented and creative Talbot Country Club chef and staff will provide delectable retro hors d'oeuvres, wines, and Mad Men cocktails.  The seated, mod-themed, 3-course dinner will include a choice between deconstructed beef or wild salmon Wellington with layers of creamed spinach, puff pastry and mushroom duxelle. The featured dessert will be baked Alaska.
"A Blast from the Past" celebrates a fun, carefree world of hippies, flower power, and chill out zones while merging into the '70s disco era of "Staying Alive."  This brilliant night will be loved by all and is a great excuse to get that wig out, wear flamboyant clothes, and channel your inner hippie or flower child.
RSVP by September 20, 2019
$200 per person