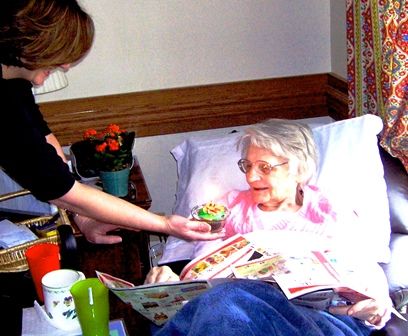 Testimonials
"Thank you for the opportunity of allowing my mother a guest room in such a beautiful, tranquil haven and for helping me with the transition of losing her for what I fimly believe is only a temporary period.  You made her final days on earth comfortable and cared for her with such incredbile kindness and dignity."
---
"The nicest thing anyone did for Mom during her final days, was to put her in a nightgown.  Such an ordinary, everyday thing to do, yet so meaningful in that it makes the wearer a person, not a patient. Please accept these gowns so that future guests can benefit as Mom (and her family) did."
---
" All of our family has been touched by your compassion. You made us feel welcome by sharing parts of your life with us.  You all give so much of yourselves with such ease that you unknowingly draw the patient and their family into the warmth of your care."
---
" We wanted to express our sincere gratitude for all that you did for our entire family while caring for Dad.  We can't tell you how special my Dad thought you were.  He loved, and we all loved, knowing he was in your care.  Your tireless efforts and sincere interest in your patients is a true gift.  Thanks so much for loving our Dad and for letting us know you.  We will never forget your acts of kindness."