New Board Members Appointed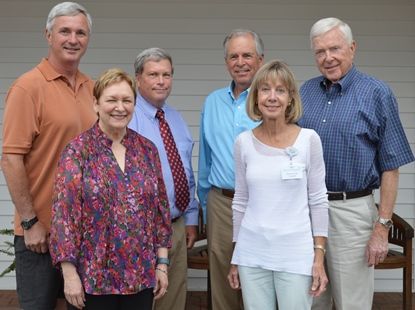 Four new members were recently appointed to the board of directors at Talbot Hospice. They include Jack Batty, Steve Burleson, Ludy Eglseder and Steve Slack. "We are pleased to welcome this distinguished group of community leaders to our Board," said Susan Piggott, outgoing President of the Board of Directors. "Each of them brings diverse talents and experience as well as passion and commitment to our mission."
Jack Batty is a retired media and communication executive who spent 35 years at General Electric Company, where he also served as executive director of GE Elfun, the company's volunteer service organization. A history/journalism major, he has a BA from Ohio Wesleyan University. His board experience includes Critchlow Adkins Children's Centers in Easton; Norman Rockwell Museum in Stockbridge, Massachusetts; Fresh Air Friendly Town of New York and Pittsfield, Massachusetts, and the YMCA of Pittsfield. Batty moved from Connecticut to Easton in 2001. Currently he volunteers with the Food Link surplus food distribution program.
Steve Burleson was a Vice President and Chief Financial Officer of eBay and PayPal from 2006 - 2015. He has 35 years experience in start-up environments and Fortune 500 global organizations in the technology, retail, distribution and financial services industries. Burleson is a CPA with an accounting degree from George Mason University. He currently serves on the advisory boards of Treatment Diaries and Pay2Day Solutions. Past board seats include Bill Float in San Francisco and Paragon Financial Corp in Ponte Vedra Beach, Florida. Burleson will serve as Treasurer of Talbot Hospice.
Ludy Eglseder, M.D. comes back to the Talbot Hospice board after a three-year hiatus. He has been practicing general internal medicine in Talbot County since 1986. Eglseder received both his undergraduate and medical degrees from University of Maryland. He is a member of the American College of Physicians, the Medical and Chirurgical Faculty of Maryland, the Alpha Omega Alpha Medical Honor Society and the American Society of Internal Medicine.
Steve Slack retired from Tyco International Corporation in Harrisburg, Pennsylvania, where he was the Vice President of Sales, Telecom Division, for North and Central America. Slack has a B.S. in Economics from University of Vermont. He and his wife, Anne, moved to Easton in 2013. Slack served in the U.S. Navy from 1965-1969 as Supply Officer aboard the USS WASP. He was Logistics Officer, Naval Support Activity, DaNang, Vietnam and was awarded the Navy Achievement Medal with combat "V." He was honorably discharged as Lieutenant (jg). Board service includes the United Fund Appeal Board and Eastern Shore Navy League. Slack volunteers at Choices Pregnancy Center and at Talbot Hospice as a cook, companion and end-of-life Doula.
Leaving the board are Addie Eckardt, John Merceron, Cammie Passarella, Lee Phillips and J.T. Smith. Piggott said, "These board members have been tireless ambassadors for Talbot Hospice during their tenure, and have made immeasurable contributions to the well-being of our institution. We have been fortunate and honored to benefit from their time and talents as they helped shepherd Talbot Hospice through the past several years."
Assuming the leadership role of board president is Diane Rohman who has served on the board for two years and who will follow Susan Piggott. "I am just thrilled to be a part of such a dynamic group of board and staff members," said Rohman. "The hospice philosophy and mission are near and dear to my heart, and I look forward to being an integral part of ensuring that we continue to provide the highest standard of excellence in the care we deliver to those who need our services at the end of life." Rohman has been an administrative volunteer since 2009 and was co-chair of the 35th anniversary Barn Dance celebration in April, 2016.