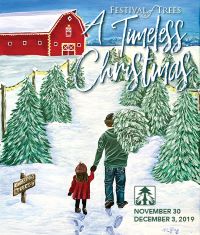 34th Annual Festival of Trees
A Timeless Christmas
Presented by The Friends of Hospice
November 30 - December 3, 2019

Mark your calendars for Thanksgiving weekend to join friends and family for this time-honored Talbot tradition. You won't want to miss the spectacular display of holiday trees at the Tidewater Inn Gold Room as well as the other events and festivities surrounding the Festival of Trees. It's the perfect way to get in the holiday spirit!
2nd Annual Kick Up Your Heels for Hospice 5K
Sunday, September 22, 8 - 10 a.m.
Idlewild Park
Entry Fee: $30
Contact: Alisha Saulsbury: - phone: 443.786.0847 | email: tamars98@gmail.com
Register here: https://runsignup.com/Race/MD/Easton/KickUpYourHeelsHospice5kRun
Crab Claw Dinner
Sunday, November 3, 12 - 5 p.m.
Reservations are recommended. Call the Crab Claw at 410-745-2900.
Preview Party
Friday, November 29, 6 p.m.
Tidewater Inn Gold Room
$60 per person
Festival of Trees
Saturday, November 30, 10 a.m. - 8 p.m.
Sunday, December 1, 11 a.m. - 8 p.m.
Monday, December 2, 10 a.m. - 8 p.m.
Tuesday, December 3, 10 am. - 6 p.m.
Adults - $5, Children under 12 - $1, Children under 1 - free
Candy Cane Lane
Saturday, November 30, 10 a.m. - 2 p.m.
Easton Elementary School (Moton)
$5 per child, includes lunch (adults free)
Family Dance (replaces Mother-Son & Daddy-Daughter Dances)
Saturday, November 30, 6 - 8 p.m.
Elks Lodge
Adults $30, Children $10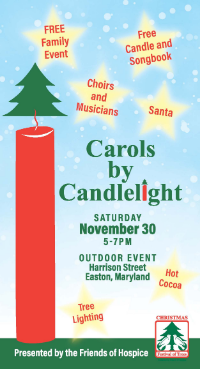 Carols by Candlelight (NEW THIS YEAR!)
Saturday, November 30, 5 - 7 p.m.
In front of the Tidewater Inn
Free of charge
Choral groups, choirs, bell ringers, and a symphony will perform at this new event. Spectators will receive a complimentary candle and songbook. Hot cocoa and holiday treats, donated by local restaurants and business, will be served as we spread holiday cheer in song! The celebration starts with a Christmas tree lighting where Santa gets the honor of turning on the lights for the first time. All downtown businesses and restaurants are invited to participate by decorating their store fronts with twinkling lights and evergreen garland along with magical window displays to celebrate along with us the beginning of the Christmas season in our picturesque town of Easton - a small town with a big holiday heart!

For more information visit the Festival of Trees.