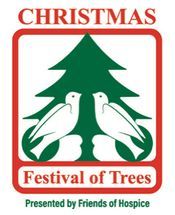 Friends of Hospice


Festival of Tree's Update      

Talbot Hospice is grateful to Friends of Hospice, a separate non-profit created specifically to raise money for Talbot Hospice through its annual event, the Festival of Trees.
                                            
The Festival of Trees is in its 35th year, and they are Celebrating:
"THE RED, THE WHITE AND THE BLUE"…..
A celebration of an American Christmas. A year that reflects the best of the American spirit.
Due to COVID-19, Friends of Hospice have made some changes to the traditional way the festival has been celebrated in the past. 
THE FESTIVAL OF TREES - will NOT take place in the Gold Room of the Tidewater Inn this year. The 35th Anniversary of the Festival of Trees will be celebrated with an ALL AMERICAN CRYSTAL BALL NON-EVENT in November. 
TREE SPONSOR - To sponsor a six, eight or ten-foot tree, please call (410) -819-3378 (FEST)
POINSETTIAS - will be sold through a mailing, the Talbot Hospice newsletter, talbothospice.org, and festival-of-trees.org. 
CHRISTMAS TREES ranging from 12" to 36" will be beautifully decorated. They will be sold at a designated location. 
If large outside gatherings are once again deemed "safe," the following events will take place:

CAROLS BY CANDLELIGHT

-

Saturday, November 28th - 6:00 p.m

- In front of the Tidewater Inn. Complimentary candles will be given, and an ALL AMERICAN 20-foot CHRISTMAS TREE will be lit to welcome in the Holiday Season and to celebrate the coming together of our community and country.

HOSPICE 5K SANTA RUN

- Saturday, November 28, 8:00 - 11:00 a.m. - Idlewild Park Entry Fee $30.00
---
It is our HOPE you will consider a "Gift of Compassion" to Friends of Hospice to support the very important work that Talbot Hospice carries out. In appreciation for your donation, your name will appear on a full thank you page n The Star Democrat.
To donate online click here
or
Please make checks payable to Friends of Hospice 
P.O. Box 2052
Easton, Md 21601
For further details, please go to festival-of-trees.org                 
Or you may call or email Friends of Hospice at:
---
History of the Festival
One of the early patients on hospice care was Virginia Fuller. Leslie Ware, her friend and neighbor, and Midge Fuller, her daughter-in-law, had seen an article in "Southern Living" magazine about a Festival of Trees in Atlanta, Georgia. After Virginia Fuller passed away in November 1984, Leslie and Midge located a tree festival in Wilmington, North Carolina, that raised funds for a local hospice. After visiting the Wilmington Festival of Trees, Leslie and Midge presented the idea of creating a Friends of Hospice to host a Christmas Festival of Trees fundraiser annually for Talbot Hospice. 
 
 The idea was welcomed with open arms. Leslie and Midge spent the next twelve months organizing committees, ordering supplies, speaking to local groups about hospice care, and recruiting local businesses and friends to support and participate. The result…in November 1985, a beautiful new area tradition began…The annual Christmas Festival of Trees.
SINCE 1985
Friends of Hospice has carried out its mission to raise funds for Talbot Hospice by sponsoring the annual Festival of Trees. This event continues to be immensely successful and is made possible through the work of hundreds of volunteers. The festival annually assists Hospice's operating budget, which benefits the terminally ill in Talbot County. Friends of Hospice has donated over 3.5 million dollars to the Talbot Hospice Foundation, all generated from the Annual Festival of Trees.