Artist-in-Residence Program Announced
As part of its unique continuum of support services and pursuit of innovative programs, Talbot Hospice has created an Artist-in-Residence (AIR) Program. The Artist-in-Residence, during a year-long residency, will collaborate with patients and their loved ones in creative ways.  Using various forms of art, families can work with the AIR to tell their stories, explore and express their feelings and sentiments and transform those emotions into art.  The AIR will help facilitate ideas with the intention of creating a lasting legacy that captures the specialness of the individual through a favorite memory, for example.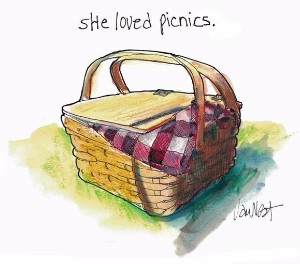 Wendy VanNest, who for 14 years has been Director of the Pathways program at Talbot Hospice, brought the idea to the staff in May. VanNest says she was inspired by Zen Hospice Project in San Francisco, which, according to its website, may very well have created the first AIR program at any hospice organization in the country. "I was struck by their program and immediately thought it would be a good fit for Talbot Hospice and for me as I continue my work here," VanNest said. VanNest is an artist with a background in editorial illustration and has long been creating artwork for Talbot Hospice including holiday and sympathy cards, posters, collages and illustrations. She was the artist for the 2007 Festival of Trees. VanNest will serve as the first Talbot Hospice Artist-in-Residence and develop the program.
VanNest is currently working toward her certificate in Thanatology – the study of death, dying and grief – at the National  Center for Death Education at Mt. Ida College in Newton, Massachusetts. Her final project, "The Art of Losing My Mother; Anticipatory Grief Observed," focuses on the use of creativity as a tool for meaning-making before a death.  She hopes to bring awareness to the process of anticipatory grieving; that it can be a time of personal growth and creativity.  "The urge to create is part of being human," said VanNest. "I believe that art in all forms can be used to make meaning for caregivers and their loved ones. Creativity may enrich their limited time together. For example, I found it much easier to articulate my keen awareness of the impending loss of my mother through art than in words. I realize in hindsight that the art I created of her and for her are visual eulogies."
One example of how VanNest intends to share her talents with Talbot Hospice families is to provide a pen and ink and watercolor sketch of a special item or an illustration of a memory that is particularly meaningful. The image can include a person's name, a song lyric, poem, quotation, bible verse, or any language that is significant. This memento is a gift from Talbot Hospice at no cost.
"Our Artist-in-Residence Program is an exciting initiative that will provide opportunities for families to express emotions in ways that words may not capture," said Executive Director Vivian Dodge. "Through this program we hope to enhance the lives of people we serve in new ways. We are very proud to have Wendy spearhead this initiative, and we are thrilled she is named our first Artist-in-Residence. This AIR program is just one of the many creative ways we offer support to our families."   
Local creative and performing artists will be invited annually to submit proposals for the residency with the requirement of actively contributing their artistic skills in ways that will benefit Talbot Hospice patients and families. Talbot Hospice will offer space for the AIRs to exhibit or perform their work and time for presentations to the staff, volunteers and Board of Talbot Hospice on what has been learned and contributed through their AIR experience.
Talbot Hospice serves patients at the end of life and helps family members manage the practical details and daily challenges of caring for a dying loved wherever they call home – in their own residence, in assisted living and nursing facilities or at Hospice House on Cynwood Drive in Easton. For information about hospice services and programs, call 410-822-6681 or visit talbothospice.org.
For more information about the Artist-in-Residence Program at Talbot Hospice, contact Wendy VanNest at wvannest@talbothospice.org or 410-822-6681.